Welcome to the Motis dashboard
Information for Hauliers Regarding Illegal Immigrants
As most hauliers will know, the situation regarding Illegal immigrants attempting to smuggle themselves to the UK is getting more problematic by the day. Therefore, please see below some guides from the UK Border Force on how hauliers can prevent this and how they can ultimately avoid fines in the event that they are caught with illegal immigrants on board.
Civil Penalty Code of Practice
10 Steps to Avoid a Civil Penalty
Civil Penalty Accreditation Scheme
Civil Penalty Accreditation Scheme Applicatoin Form
Important Boarding Instructions for Drivers on the Eurotunnel
Safety is Eurotunnel's top priority. It is therefore very important that the safety rules in the link below are respected at all times when driving on the terminals and boarding Freight shuttles. The boarding and safety indtructions video in the link can be viewed in 9 different languages so please pass on to all drivers: www.eurotunnelfreight.com/drivers
BAF Marpol May 2017
Please click image below for full detail on BAF for the month of May 2017: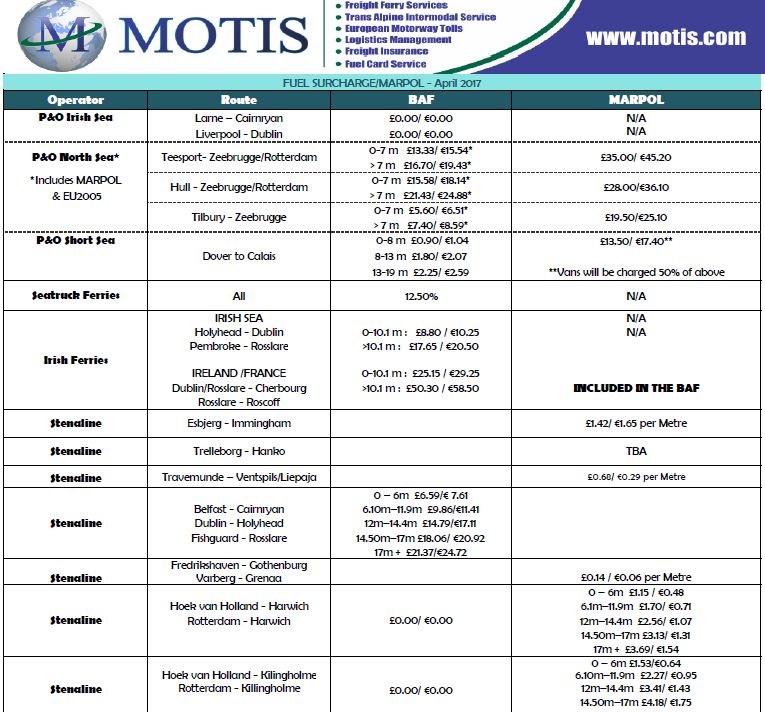 Austria Driving Restrictions 2017
The confirmation of the Additional and Summer restrictions in Austria have been published and are below in red (click to enlarge).
For full Austrian restrictions please CLICK HERE.
General Requirements
Please CLICK HERE for list of general driving requirements.